Innovation Clusters
DHI are developing a series of innovation clusters where our diverse membership of civic, commercial industry and academic partners can come together to:
share learning, skills and experience
collaborate on new ideas
solve health challenges
Why not join our network to learn more about what we do and register your interests so that we can identify common themes for new innovation clusters?
Healthy Ageing Innovation Cluster (HAIC)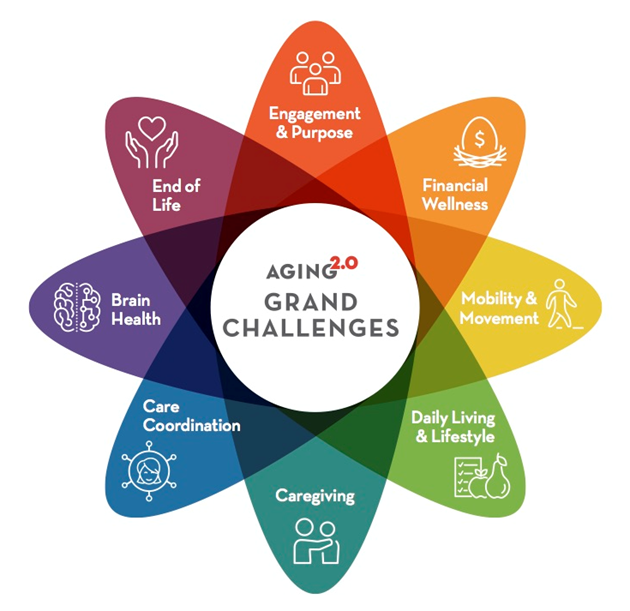 Healthy Ageing Innovation Cluster (HAIC)
Our Healthy Ageing Innovation Cluster (HAIC) is well established and builds on the principles of Aging 2.0, which is an international, interdisciplinary, and intergenerational community that strives to address the biggest challenges and opportunities in ageing. To date our HAIC has been focusing on identifying, and giving a Scottish context to, opportunities within the Aging 2.0 Grand Challenges.
We work with our partners to promote positive approaches to healthy ageing, using digital solutions and services to transform care.
We have a wealth of knowledge, learning and experience to share through the membership of our cluster.
Browse the resources below and make sure you join our network and select Healthy Ageing to be kept up to date with the latest HAIC news and future events.
---
Healthy Ageing Innovation Cluster
The Digital Health & Care Innovation Centre (DHI) delivered a stimulating Healthy Aging workshop at TEDxGlasgow 2019. It was well chaired and generated a thought-provoking discussion amongst the groups with a diverse range of views and suggestions. The materials provided were a really innovative way of facilitating a discussion.